If you're looking for a new house sign, you may have been struck by how same-y so many of them are.
If you want something a bit more individual and imaginative, here are some rather more interesting house sign ideas for you.
We work with aluminium, slate, wood and a variety of plastics as well as bronze, brass and stainless steel. We can etch most materials, and what we can't etch we can decorate with vinyl lettering and images.
Vinyl lettering and images
Different shapes
Don't want square or oblong? All our materials can be cut to shape, so if you want your house name plate in the shape of a bird or even of the house itself, we can do it. Some materials are stronger than others, so it may be more practical to realise your design in metal rather than foamex, for example. This example was made for an industrial estate, but it would work just as well for a house sign.
Alternatively, we can fix a cut-out onto a backing board to give it extra strength and make the shape of the image really stand out.
Curved signs
Metal can't only be cut, it can also be bent, so if you want it to curve around a wall or a tree – or, indeed, anything else – we can do that, too. This image is of a sign we made around 10 years before the photo was taken, and it shows the depth of colour and patina that bronze achieves over time.
Modern house signs
If you want your house sign to have the strength and longevity of metal but don't want the metallic appearance, how about having the metal painted black and textured before the name is engraved on it? This one is stainless steel, though you mightn't think so to look at it. It has a really modern look with a touch of urban chic.
Large house signs
If you need a big house sign at the end of your drive that will be easy to see from the road, we can create it from aluminium or stainless steel with vinyl lettering. These two examples show very different treatments: the silvery metal with black lettering, and the metal painted and then lettered in a contrast colour.
Cut-out letters
Another way to use metal for very visible and long-lasting signs is to mount cut-out letters on a metal bar. It's probably best to have two signs made, so it can be read by people travelling in both directions!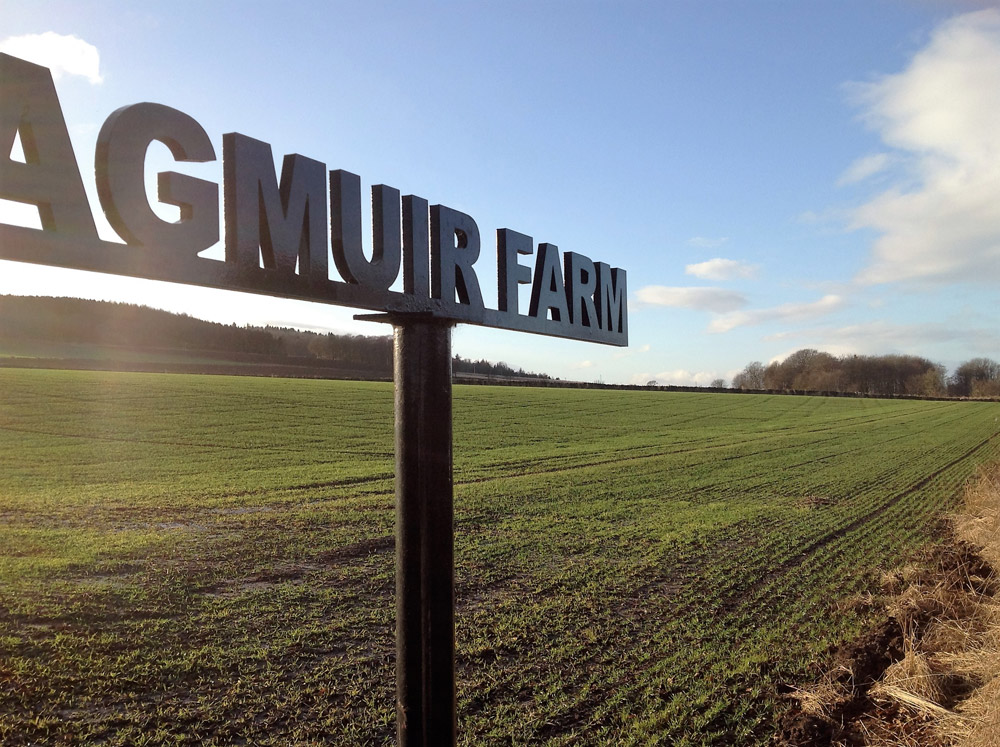 Etched lettering complete with an image
For a modern and very different look, you could have lettering etched and infilled with a dark colour on a silvery metal such as stainless steel or aluminium, and then add an image that provides a splash of colour. This memorial plaque uses the red poppies symbolic of the First World War, but you could use the same idea for, say, Rose Cottage or Kingfisher House.
Slate or wood engraved sign
Other house sign ideas that are a bit out of the ordinary are slate to match the slates on your roof, laser engraved wood with coloured lettering, or bronze with a picture (in this case, a pun on the house name) and lettering, again infilled with a contrasting colour.
Bronze sign infilled with coloured lettering
As you can see, these house sign ideas are anything but standard.
You don't have to have what everyone else has – give us a ring or drop in and we'll be happy to discuss how we can bring your ideas to life.